We've had a few requests for gift vouchers so we are now pleased to offer vouchers for Guided Relaxation, Stopping Smoking, Overcoming Fear and Overcoming Anxiety. Now you can treat your loved ones to the benefits of hypnotherapy!
Guided Relaxation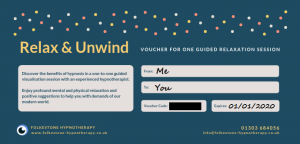 Discover the benefits of hypnosis in a one-to-one guided visualisation session with an experienced hypnotherapist.
Enjoy profound mental and physical relaxation and positive suggestions to help you with demands of our modern world.
Buy now – £40 for a one-to-one session.

---
Overcoming Anxiety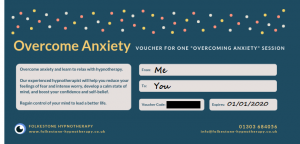 Overcome anxiety and learn to relax with hypnotherapy.
Our experienced hypnotherapist will help you reduce your feelings of fear and intense worry, develop a calm state of mind, and boost your confidence and self-belief.
Regain control of your mind to lead a better life.
Buy now – £80 for a one-to-one session.  

---
Stopping Smoking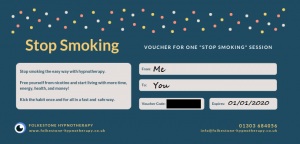 Stop smoking the easy way with hypnotherapy.
Free yourself from nicotine and start living with more time, energy, health, and money!
Kick the habit once and for all in a fast and safe way.
Buy now – £175 for a one-to-one session.

---
Overcoming Fear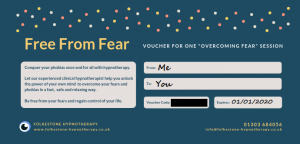 Conquer your phobias once and for all with hypnotherapy.
Let our experienced clinical hypnotherapist help you unlock the power of your own mind to overcome your fears and phobias in a fast, safe and relaxing way.
Be free from your fears and regain control of your life.
Buy now – £80 for a one-to-one session.